Our latest VEMA release, 1.25, includes adding the current R:R to the review screen for open trades, and improvements for showing Journal Logs on the details section for better clarity of VEMA's behaviour.
Also released are pieces related to progress on Forex integration (This is on track to be our penultimate Forex launch release), as well as a number of improvements to how VEMA handles exiting positions 🎉
🎉 Current R:R on Open Positions

Users recently requested current R:R to appear on open positions, as they were having to drag a TP to current price then cancel the pop up just to get an idea of the current value.
We thought that was pretty clunky, so followed their recommendations and added it to the Summary section on all open positions!
🎉 Improved Journal Log Visibility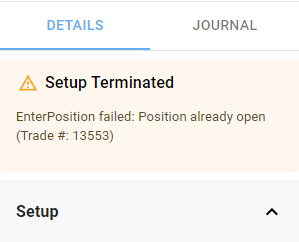 If something funky happens to your Trade, VEMA will now also show the relevant journal log in the details section, highlighting why trades may not have performed exactly as expected.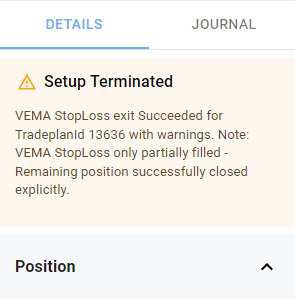 ☀️ Improvements
Position synching improvements
Forex Progress