The custom journal is now here 🎉
Custom Journal Fields are a fantastic way to enforce your Tradeplan within VEMA, and to increase the data you collect for analysis later - improving your trading performance.
To customise your journal, head to My account and select the "Customisation" tab.
Once there, you can enable forced journaling (disabling tradeplan submission until the journal has been filled out) or disable / enable the Confidence and Mood ranges by clicking the toggle switches: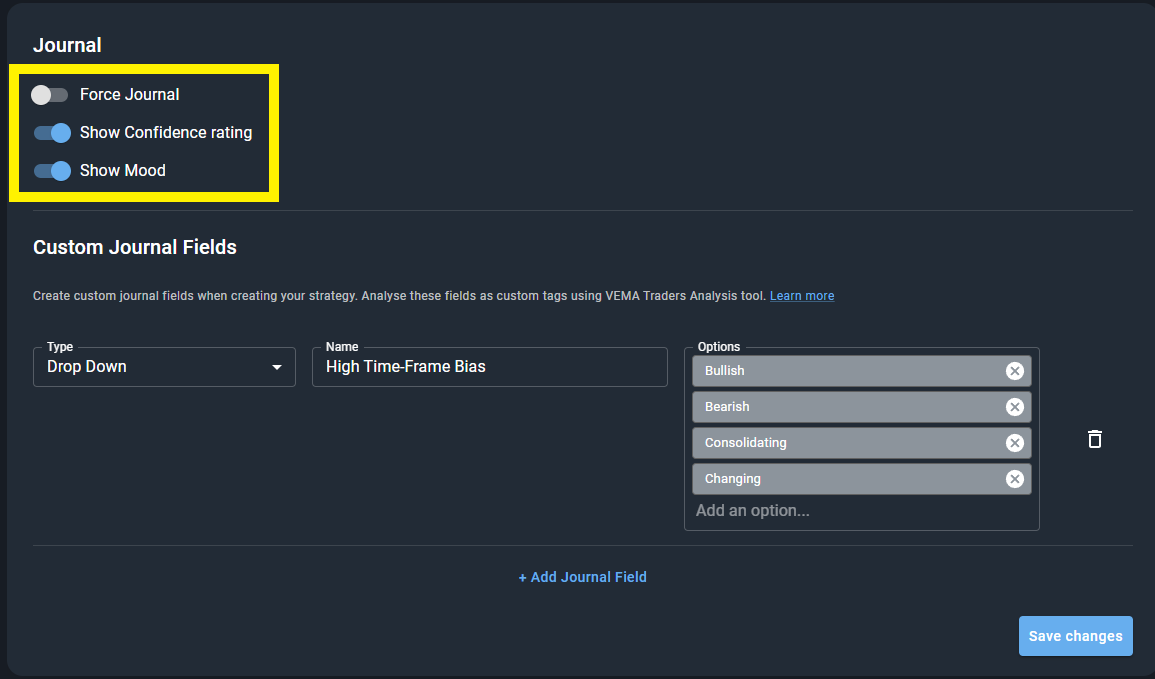 Adding Custom Journal Fields
Once you're ready to add fields, use the "+Add Journal Field" Button.

Drop Downs
Drop downs are used for single item selections - things like High Time-Frame biases, hours slept, and whether or not you've been to the gym that day.
Anything you want to journal that only has one possible answer, a drop down is your best friend.
They're also great for reminding yourself to follow the rules of your tradeplan, such as "Market Structure Labelled on Chart - Yes / No (Do not take this trade)"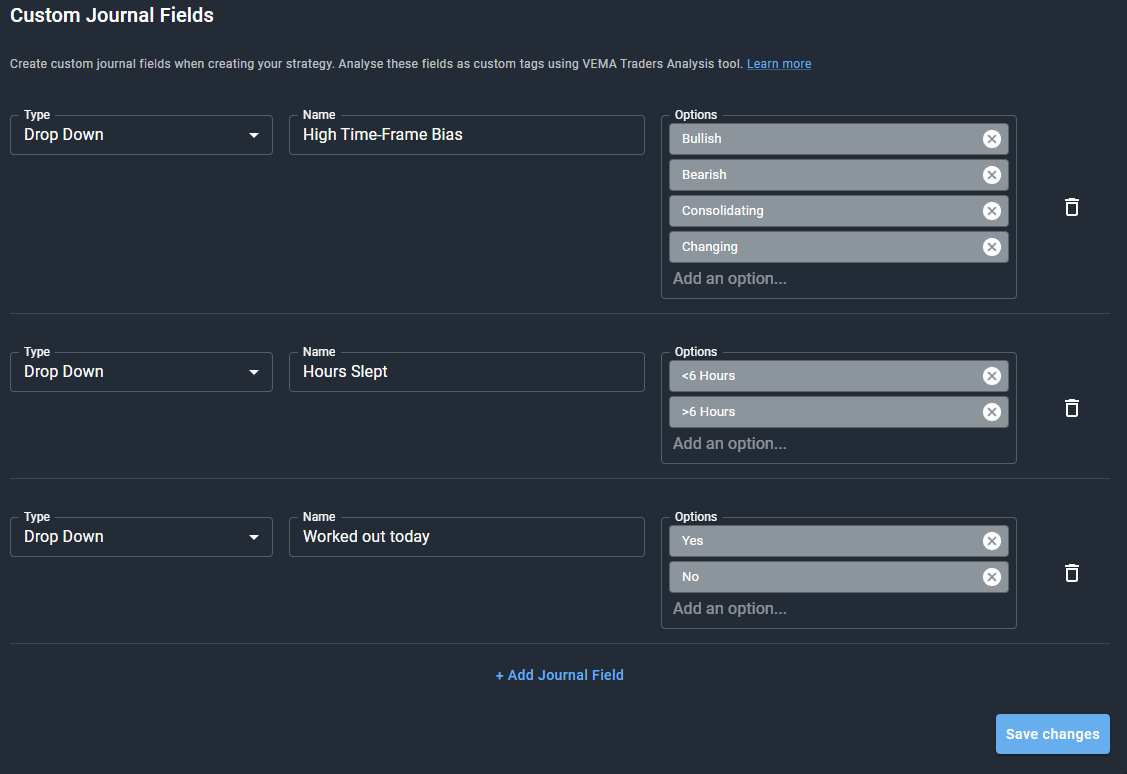 Suggestions for possible Drop Downs:
High Time-Frame Bias
Current Time-Frame Bias
Hours Slept
Exercised today
Meditated Today
Eaten Today
Market Structure labelled on Chart?
Volume supporting price action?
DXY Direction
Number of times level has been tested and respected (1-10)
Pattern
Strategy (Breakout, retracement, Reversal etc)
Trade Type (Scalp, Swing, Day trade, Position Trade)
Check Lists
Check Lists on the other hand let you select multiple options from a range of possible answers.
They're fantastic for things like a number of reasons for entry or the 100 points of ID system (see our Trade Plan Template for an explanation), or for compiling a number of single Items, instead of the above drop downs for personal life events you could have a check list for them and tick the applicable items.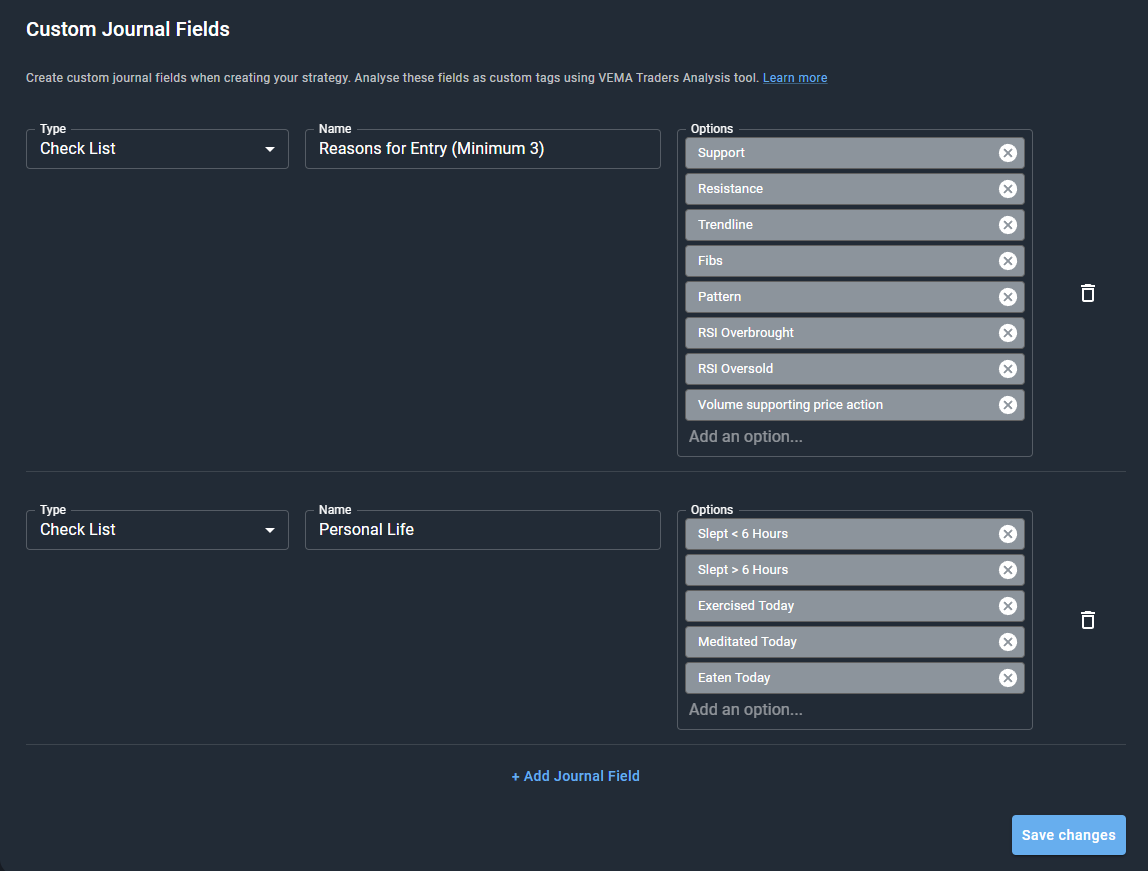 Suggestions for possible Check Lists:
Reasons for entry
100 Points of ID
Personal Life
Volume and Liquidity Checklist:

Is the trading volume above average, indicating increased interest?
Is the bid-ask spread narrow enough to avoid significant slippage?
Can I trade the desired position size without overly impacting the price?
Are there signs of institutional involvement, such as large block trades?

Fundamental Analysis Checklist:

Were there any recent news releases or announcements that could affect this asset?
Is the asset reacting to broader market news, such as economic data or geopolitical events?
Are there any upcoming events that could affect the price of this asset?
How is the asset performing relative to its sector?
Saving your Custom Journal Fields
Once you're happy with your fields, make sure to click "Save Changes" to apply your custom journal fields and settings to your trade setups.
Using your Custom Journal Fields
Once you've saved your fields, they'll appear in your journal on trade setups.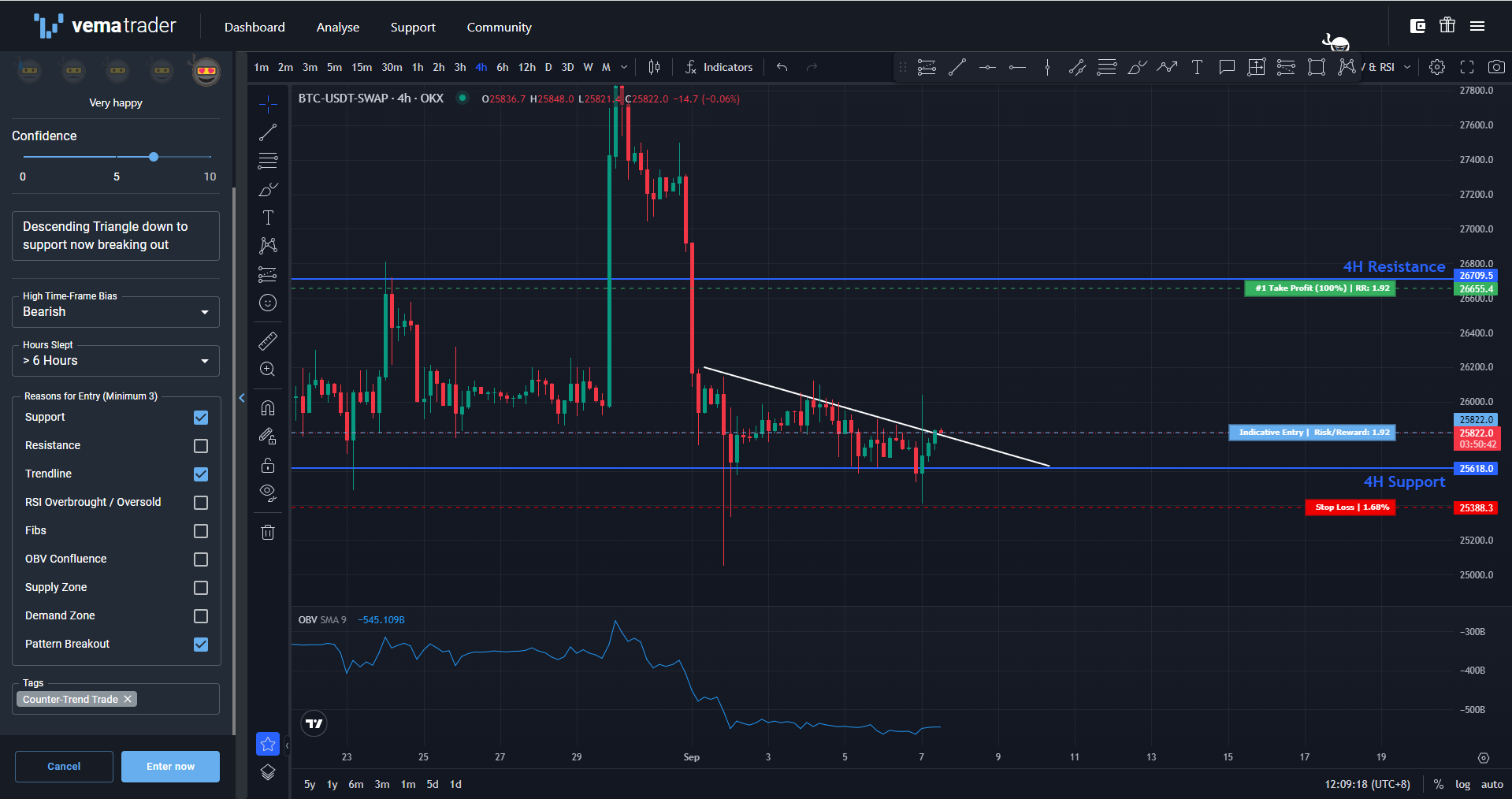 Analysing your Custom Journal Fields
Once your trades have played out, you can analyse your data from the custom fields on the Analyse page.
Custom fields and their tags will appear at the top of the tag list when adding tags: