Some web browsers have features that will clear your browsing cookies and cache. While this can help to protect your privacy, it can also interfere with how VEMA save's your Chart Settings and Favorite's.
We recommend adding VEMA to your browsers white label list. VEMA uses cookies only for storing your charting data. We have no intention of adding further cookies or third-party trackers into VEMA as these would slow down the charts.
Below are the instructions to do so for each browser:
Brave
Open Brave and enter this link - brave://settings/clearBrowserData .
Alternatively, you can get to the settings section by opening a new tab, clicking "Settings" under the hamburger menu (three lines in the top right corner) (1)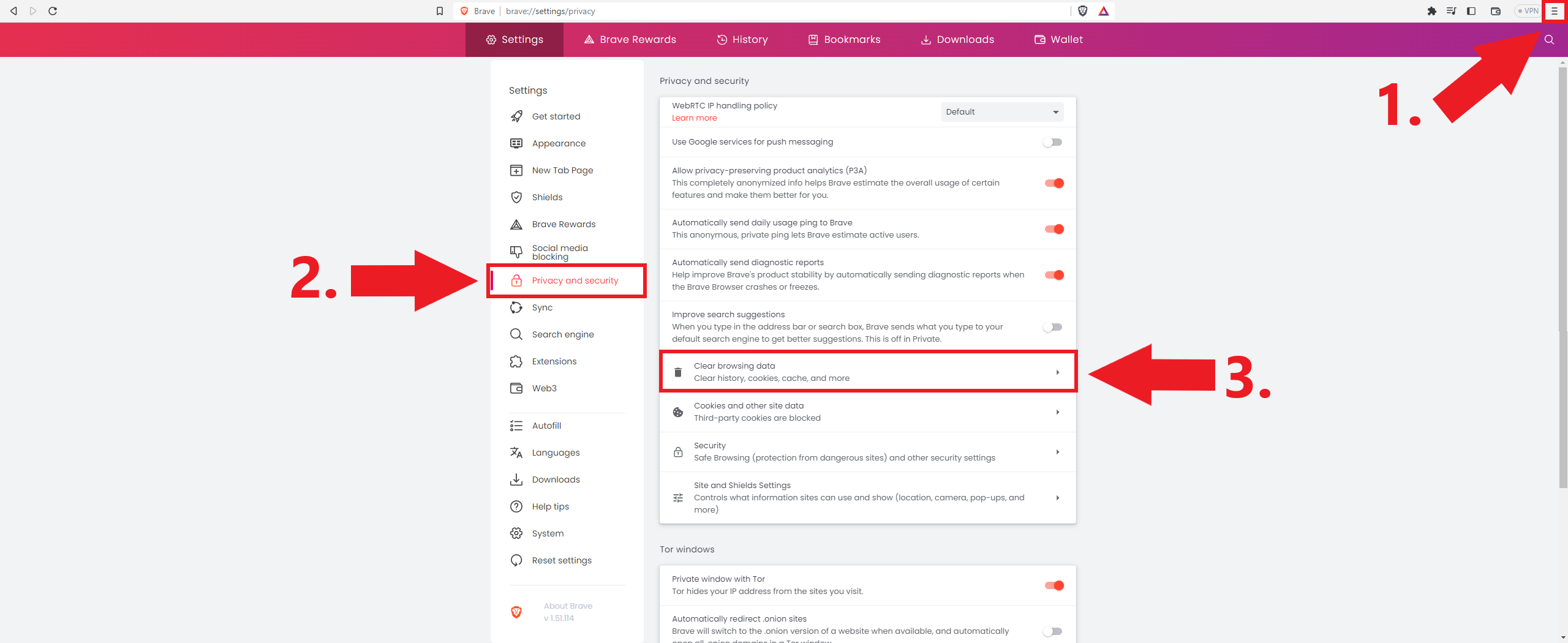 Then going to "Privacy and Security" (2).
And clicking on "Clear browsing data" (3).
Once in the pop-up window, go to "On Exit".

Untick "Cached Images and files" and "Site and Shields Settings" as these two will cause VEMA to forget settings every time you exit the site.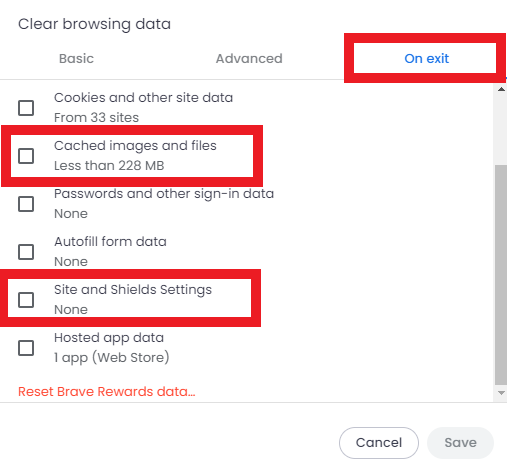 Then login to VEMA Trader.
In the address bar, on the right hand side, click the Brave icon (See screenshot below).
In the pop-up, click Advanced Controls.
Then block cross-site cookies.
We recommend having this on "Block cross-site cookies" - "Block all cookies" is overkill for VEMA and will cause issues.
Ideally going through the first set of steps above you can disable the two highlighted check boxes. Then in the second set of steps, disable "Shields are UP for app.vematrader.com"
VEMA Trader has zero intention of adding further cookies or third-party trackers as we take your privacy seriously and these would also slow down the charts and cause other potential issues.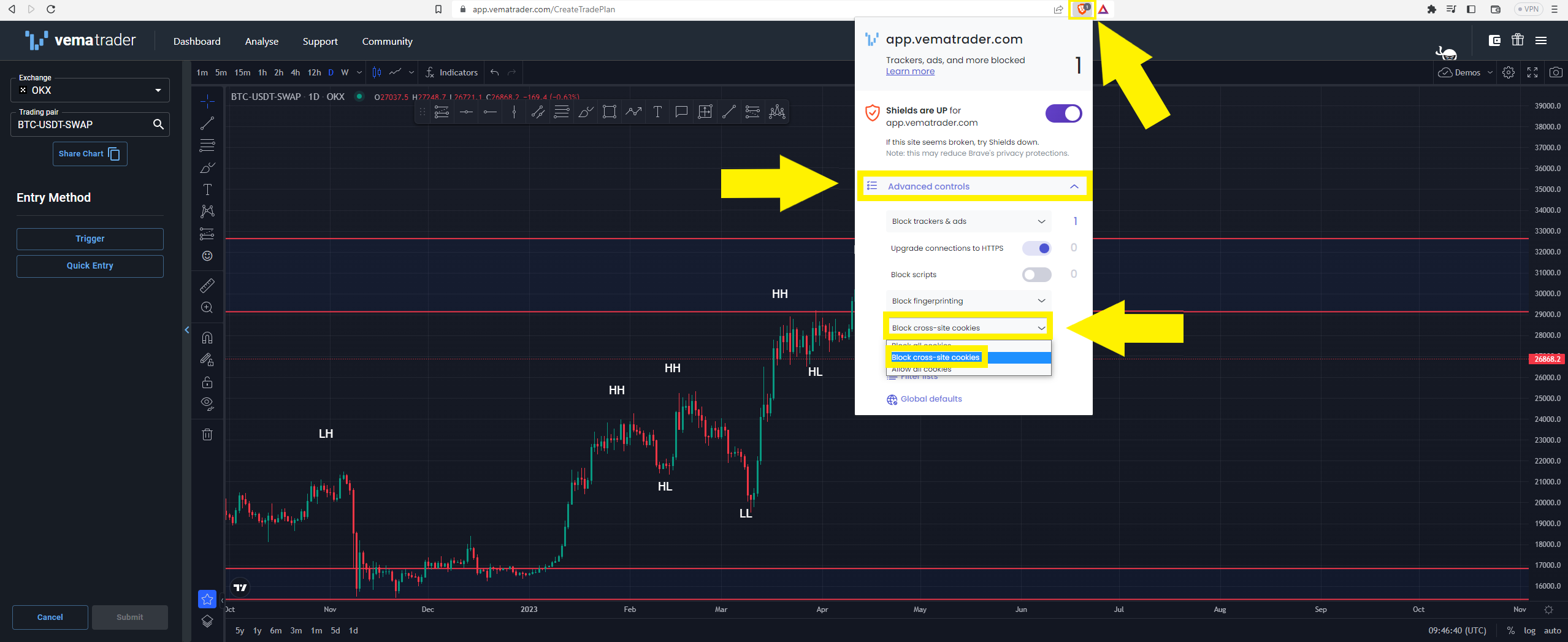 Firefox
There are 2 places to check in Firefox.
1) Add VEMA Trader to the Exceptions list
In the top-right, click the 3-bar menu icon --> Settings
In the left column, click Privacy & Security, and on the right side, scroll down to the Cookies and Site Data section. Click on Manage Exceptions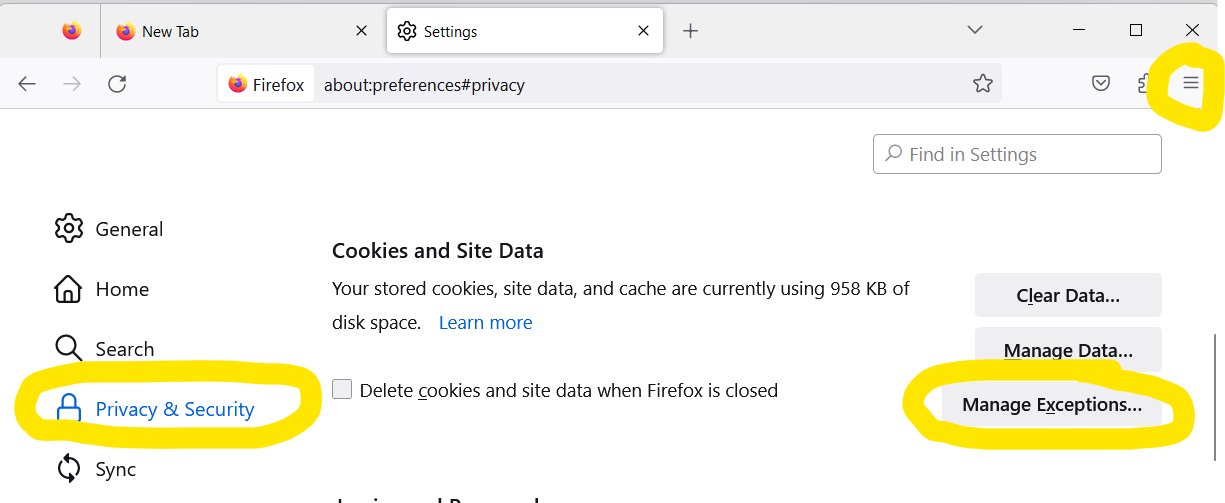 Add two addresses to the Allow list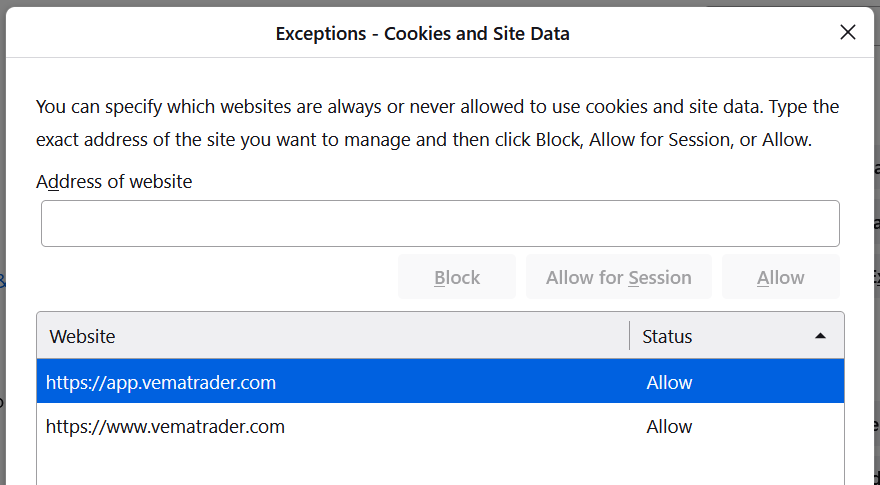 2) Turn off or Adjust the Clear History Feature
Firefox also can delete all cookies -- disregarding exceptions -- using the feature to Clear history when Firefox closes. If you want to keep some cookies, do not use this feature.
To check on this, scroll down to the History section
Select:
"Firefox will: Use custom settings for history"
If you have a check mark for "Clear history when Firefox closes" then either:
Uncheck this option to preserve your cookies and other history
Click the Settings button to the right of this line and uncheck the box for Cookies